On a side note...
This semester, I decided to take a theater makeup and costume class. For the last few weeks I've been designing costumes and applying stage makeup and, though I love my library technology, I have a chance to exercise another level of creativity that I am not always able to tap into.
Sometimes it ends up that I have to take a creative class, even if it's critical thinking, just to keep those juices flowing; it's a bit like taking an exercise course each semester simply because you know you won't have the time to work out in between classes and/or work unless you have a specific time allotted for it. Creatively, that's often how it works for me. As for this class specifically, it's got a bit of everything that I love: machine and hand sewing, a strange theater makeup kit that includes a "bruises and abrasions" palette (oddly something I've always wanted to learn to apply), a little fashion history, some sketching and designing, and we get to read, analyze and research beautiful plays.
The amazing Edith Head, famous for her impeccable fashion and film costume designs.
This class is so fun! I have always been the kind of person who LOVES visually arresting costumes in films, plays, opera, and ballet
(you may remember my previous posts
The Look
and
The Look Part II
)
and over time I've even developed a habit of doodling
"costume ideas"
a little here and there based on what I'm currently reading, usually in place of serious chemistry notes
. I heard about this class about a year ago and I finally gave in to my secret desire to enroll. The makeup aspect isn't really my forte but I'm finding that it is like nothing I've ever done, so every class lesson is a fresh new learning experience. This is especially true when the makeup is based on something that seems simple but becomes a humorous challenge (i.e. applying old age makeup), I really love that. Even better, my classmates are all just as excited as I am.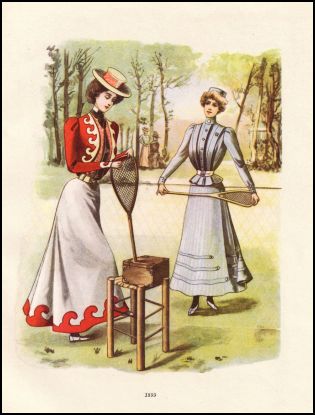 Late Victorian fashion plate
Right now we're working on Oscar Wilde's The Importance of Being Earnest, I love this play and have read it a few times already so coming up with ideas has been very interesting. Because the content is so familiar, it's like putting together an outfit for a friend or sibling. Next, however, is a play I've never read before, Blood Wedding by Frederico Garcia Lorca. I already enjoy reading his poetry but only recently have I learned that he was a playwright as well. I'm taking my time reading through most of his plays, partly out of enjoyment and curiosity but also to get acquainted with his style. His plays have a strikingly tragic, musical quality and the language is complex and a bit mesmerizing. There is a lot to imagine and, of course, use to design. I can't wait to finish Blood Wedding and find out how the play ends. We will see...
If I get my beginner's (emphasis on "beginner" ;) design sketches done soon, I'll try to share a few pictures of my "plans" for The Importance of Being Earnest in an upcoming post.
For now, here is a picture of one of my all-time favourite film costumes. Katharine Hepburn wore this crazy gown in "Bringing Up Baby" (also one of my favourite films of the 1930's). This costume has stuck with me since the first time I watched the film on VHS, I must have been 9 years old. For one thing, it's hilarious. The veil is partly made of metallic wire ribbon which swings around with her every move. The whole outfit is supposed to reflect her character's airy personality; all her other costumes are similiar, ridiculously puffy and over the top. The best part of the scene in which she wears this is an exasperated Cary Grant trying desperately to be serious (and, of course, the inevitable wardrobe malfunctions). Check it out if you haven't seen it, you just might love it.
(Costume design by Howard Greer)
Here's the scene (might as well, right?):
Enjoy!
SBS